Discover more from Futura Doctrina
A conversation about technology, ideas, people and their convergence in contemporary war and competition. Also covering issues related to the war in Ukraine, Chinese aggression against Taiwan and Indo-Pacific defence.
Over 19,000 subscribers
600 days of valour and sacrifice. Ukraine is here to stay no matter what. Even if most of media and punditry turned almost all attention elsewhere.
Today marks 600 days since the large-scale Russian invasion of Ukraine in February 2022.
But as Chris Miller rightly points out, it is actually 3525 days since the beginning of Russia's invasion and attempts to subjugate Ukraine (I strongly recommend Chris' book, The War Came to Us). Since 2014, Russia has waged a military, political, diplomatic, informational and economic campaign to convince other countries that Ukraine is not a sovereign nation, while also attempting to physically eradicate the country.
At various points in this war, we have noted the passing of days partly because it might drive Ukraine's supporters to speed up and expand their military and economic aid in order to assist Ukraine to win more quickly. Looking back in this way also allows the commemoration and remembrance of the many, many Ukrainian civilians and military personnel who have been killed, tortured, raped, abducted, wounded and psychologically scared by Putin and his efforts to eradicate a democracy that provides an alternative form of governance to the authoritarian model he has implemented in Russia.
But, as we reach these milestones in the war, it is also cause to reflect and assess key lessons that might improve the strategic and tactical effectiveness of the Ukrainian war effort, as well as the support provided to them by NATO, the US and others.
Reflections on the War
At the one-year mark of the war, I reviewed how it has caused us to examine both the continuities and changes of war.
There are many continuities in apparent in this war. As I have written frequently here and elsewhere, every new war is an aggregation of the ideas, institutions, technologies, and techniques that have preceded it. In the Russo-Ukraine War, there are multiple continuities from previous wars carry through into the strategy, diplomacy, and military operations of both sides.
War is a continuity in human affairs. Perhaps the most important continuity is that competition and conflict is an enduring element of human affairs. It may ebb at times, but war is a constant feature of the interplay of nations, groups of nations, and non-state entities. This is an idea that is as ancient as the existence of human societies.
Good strategy matters. Strategy is at heart it is about aligning national objectives with the means and ends to achieve those objectives. The war in Ukraine has provided academics, politicians, military leaders and civil servants an abundance of observations on the development and execution of strategy from the perspectives of the Ukrainians, Russians, Americans and others. There are many examples of effective strategy development and its implementation from the war, and many examples of poor strategy.
But there are also lessons to be drawn from the absence of strategy. As I recently wrote in Foreign Affairs, the lack of a US or NATO strategy for supporting Ukraine will have an impact on coordinating efforts for a Ukrainian victory.
Surprise. The past 600 days have demonstrated (again) that ambiguity and uncertainty are key features of the international system. Because of this, we will also keep being surprised across many aspects of international security affairs. As I wrote in my recent piece, Surprise Is Inevitable, there have been many surprises over the past 600 days in this war.
Leadership. The best way to respond to surprise is good leadership. This has been on display – most compellingly from Volodymyr Zelensky. The Ukrainian president has shown courage, empathy and led those who need him most – the Ukrainian people. But over the past 12 months we have also witnessed the impact that good (and bad) combat leadership has.
There have been very few new elements of war that have appeared in the past 600 days.  That may shock some. However, some of the new aspects of war are quite important. And as I wrote in my recent piece, The Transformative Trinity, three key developing systems have the potential to thoroughly transform the character of warfare. These are: the meshed civil-military sensor net; drone-counter autonomy complexes; and, democratized digital C2.
War as a Learning Opportunity
At the 500-day mark of this war, I examined how both Ukraine and Russia had been learning and adapting from the war. Since the beginning of the large-scale Russian invasion in 2022, the Ukrainians and Russians have demonstrated the ability to learn, adapt and then continue learning. This has taken place at the tactical, operational and strategic levels, although not always in a systemic manner. Two key strategic adaptations for Ukraine stand out since the beginning of the war.
Transition to a NATO-Style Military. The transition from Soviet era weapons and systems to NATO systems commenced before the war. The Ukrainian government adopted a policy the mid-1990s of moving towards a military organization that more aligned with NATO processes, equipment and organisations. The physical and intellectual transition of the Ukrainian Armed Forces to NATO standards remains an incomplete undertaking, however. Some old Soviet Ideas and process remain. But results on the battlefield, leadership from commanders such as General Zaluzhnyi, and nascent plans for the future Ukrainian military being developed by new Defence Minister Umerov, are steadily driving the strategic adaptation of the Ukrainian Armed Forces to ensure a more NATO-like military is developed.
Integrated Air, Missile and Drone Defence. The adaptations to the Ukrainian air defence network have had a strategic impact on the war. They have ensured that Ukrainian military operations are able to be conducted with less molestation from Russian missiles, drones and aircraft. This very effective air defence environment has also reduced (but not yet removed) the threat to Ukrainian civilians and civil infrastructure. It is an important moral and humanitarian outcome, and it also assists in keep Ukrainian factories open that are supporting the war effort.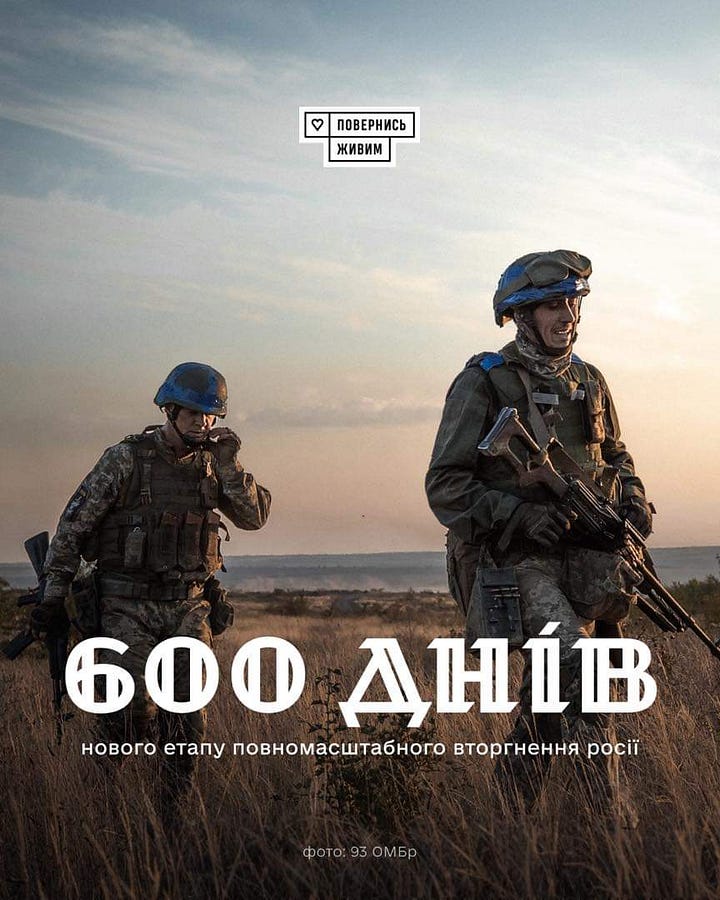 Reflections at 600 Days
So, where are we now? I think there are five key observations that might be made.
A National, Just War Effort. First, Ukraine is fighting the war as a national effort, with an array of military, diplomatic, information, technological and societal means. Importantly, it is a democratic effort and there will be many interesting civil-military relations studies that could be undertaken, now and in the wake of the war. The President-Minister-Commander in Chief interactions are sure to have some similarities with Western nations as well as many differences.
More broadly, while Ukraine has implemented an effort to leverage all national means, it is far from the 'anything goes' strategy of Russia. Ukraine is fighting within the laws of war and in accordance with international law. This is important for legitimacy domestically and in the international community.
But this 'just war' approach is something that appears to have come naturally to Ukraine. There appears to be an inherent understanding in their soldiers, generals and society that doing the wrong thing would not only compromise them strategically, but it would also be a stain on their souls.
A Ukrainian Way of War. Second, Ukraine appears to have developed its own unique way of war. This Ukrainian Way of War is a conglomeration of Soviet, Western and Ukrainian cultures, concepts, organisations, and technologies. There is a fascinating interplay of older Soviet and newer NATO doctrines for training, leadership, and operations.
This is a topic that I have explored, from different angles, in my articles over the past month. During my most recent visit to Ukraine, I examined this subject through the lens of how Ukraine is applying all elements of its national power to develop a strategic approach to raising, training, employing and adapting its military. While there is much more to be written on this subject, it is reasonable to hypothesize that Ukraine, at the 600-day mark of the war, is now implementing a distinctive way of war that has been developed to deal with the specific context of this war.
Adaptation. Third, innovation and adaptation from the ground up is also a key part of this story. The practical problem solving of Ukrainian soldiers and civil companies has provided a critical edge over the past 600 days. Much of this is 'bottom up', but there are also increasing examples of institutional learning and adaptation where battlefield learning is drawn into strategic systems. 
The Ukrainian learning system is evolving and improving. There is an obvious emphasis now on institutional learning and the collection of battlefield lessons to inform their strategic systems. Adding to this, every senior officer I spoke to during my recent visit offered to share lessons with partner nations about what they have learned. An institutional learning culture - some of it formal, some of it informal - is now a key part of Ukraine's way of war.
Tactical v Strategic Operations. At the 600-day point, there is now a clear view of how the Ukrainians have also evolved the balance of their tactical and strategic activities since the start of the Russian large-scale invasion. This time last year there was minimal capacity, and few processes, for Ukrainian strategic strike operations. There were some operations, such as the October 2022 Kerch Bridge attack, as well as a robust program for global influence operations.
Now, with indigenous and western ground, air, and sea capabilities, combined with NATO joint planning processes and an array of different intelligence feeds, Ukraine is implementing a continuous series of strategic strikes in Crimea and Russia. The key unknowns are whether this program is sufficiently linked to their ground campaigns, as well as how well Ukraine can measure the political impact of strikes in Russia. That said, I expect that there will be a heavy weighting on strategic strike over the coming winter.
The Social Contract. One issue that has been raised consistently during my visits to Ukraine is the centrality of national unity, as well as the 'social contract' between the Ukrainian Armed Forces and its society. This was mentioned in every discussion I had with civilians and military personnel. This also includes an understanding by senior leaders of the big difference between regular and mobilised troops. 
The Ukrainians clearly have a strong cultural inclination towards an approach where the military understands it has to balance mobilising large numbers of its citizens for military service, with employing them wisely in military operations. This might be the source of recent comments about the Ukrainians being 'risk adverse'. Comments such as this are a gross misunderstanding of Ukrainian culture and the Ukrainian approach to the war. They can't - and don't wish - to imitate the Russian's wasteful use of personnel. Ukraine needs to engage in attrition operations, but in a much more clever way than the Russians. The Ukrainian military leadership know they need to be operationally successful but they also clearly care about their people.
The Way Ahead: Opportunities and Headwinds
The coming months offers both opportunity and headwinds.
The Need for Speed and an Intellectual Rejuvenation. The immediate future offers opportunity for those supporting Ukraine to rethink how military operations might be better conducted to take account of modern conditions such as the big three changes I have described at the Transformative Trinity.
There was a significant intellectual failure by NATO and the west in the past nine months. Not only were we unable to make the case to get more support for Ukraine to exploit their gains at the end of 2022, but the collective training preparation in the lead up to 2023 was obsolete. Despite having 18 months to learn about enhanced battlefield transparency, digital C2 and a closing of the detection to destruction gap, and six months to examine Russia building defences, we insisted on training the Ukrainians in 1980s combined arms doctrine with even older obstacle reduction technologies in lower volumes than the old doctrine recommended.
We need to undertake a program of intellectual rejuvenation to help Ukraine and to evolve western military institutions to enhance their effectiveness on the contemporary battlefield.
At the political level, politicians and policy advisers were too slow to provide the military wherewithal to Ukraine that might have allowed it to exploit its Kharkiv and Kherson victories of late 2022. As a result, the Russians were provided with the breathing space to reconstitute forces, deploy mobilized troops, and build the robust defences in the south that have slowed the Ukrainian southern offensive. There is an opportunity now to review decision making in order to increase its quality and speed in order to better support Ukraine, as well as other nations such as Israel and Taiwan.
Notwithstanding these opportunities, Ukraine faces some strategic headwinds in the immediate future.
Russia is Fighting the Long War. The enemy always gets a vote. Russia has mobilized its industry and society for a drawn-out war with Ukraine, and a long-term confrontation with the United States and Europe. And as recent events in southern Ukraine have demonstrated, it has far from exhausted its capacity to generate and employ new combat forces to attack the Ukrainians. And while the offensive capacity of newly raised Russian units might be questioned, Russia is clearly able to sustain a steady drum beat of reinforcements and units for its operations in Ukraine in the short to medium term. Consequently, Ukraine will need to continue its smart attrition approach for a while to come.
Strategic Distraction in the West. Even before the abhorrent attacks on southern Israel by Hamas on 7 October (and the ongoing rocket attacks and information operations since then), polls had begun to show a decline in support for Ukraine among European nations. Perhaps the greatest manifestation of declining interest in the war in Ukraine has been the cohort of US politicians who have called for stopping or reducing aid to Ukraine, and who have used Ukraine support as a political football in the US Congress. This gives heart to Putin. It also degrades any US narrative about support to Ukraine "for as long as it takes."
The new war between Hamas and Israel (and the need to deter Iran and Hezbollah from joining the fight) is already drawing attention away from Ukraine. As I wrote here, Russia benefs from this. The kinds of weapons that Israel and Ukraine need from the US and Europe might differ, but it will increasingly split the attention of key leaders and decision makers in Washington and other capitals.
While Israel's right to defend itself, and respond to the Hamas attacks is crucial, so too is there a need to prevent a predatory authoritarian from resetting norms in international behaviors. Any decrease in attention and support for Ukraine in the coming months may have profound impacts for Ukraine, and for the common defence of western democracies in the coming years.
The War in Ukraine Continues
Ukraine currently retains the strategic initiative in this war. But as the Russians have demonstrated with their ground attacks at Avdiivka and in their global propaganda operations, Putin is desperate to change this narrative. He probably never anticipated that he would still be fighting this war 600 days after his troops crossed the border into Ukraine.
At the same time, the grim toll of Russia's colonial aspirations and brutal attempts to subjugate its neighbor continues to rise. As we mark the 600 day point of the war, Ukrainians are fighting in the south, east and northeast of their nation, in the skies above and in cyberspace, to defend their sovereignty, take back their territory and liberate their citizens from Russian occupation.
And as the US and Europe seek to balance their support for Ukraine and Israel in the weeks and months ahead, the Ukrainians are concurrently fighting, preparing for the winter, and planning for their 2024 campaigns.
For Ukraine, 2023 has been a year of strategic reconstitution and building their military forces, while simultaneously undertaking two defensive campaigns (the east in Jan-April and the northeast now) and two offensive ground campaigns in the south and east. They are now a very experienced, million-person military. If previous wars provide any insight, and we factor in the learning undertaken by the Ukrainians in the past year, we can expect the Ukrainians to be even more effective tactically and strategically in 2024.
We need to continue (and enhance) our support for this courageous nation to ensure they can leverage all they have learned in the past 600 days.
Futura Doctrina is a reader-supported publication. To receive new posts and support my work, consider becoming a free or paid subscriber.